In a Straight opinion, a Steemo steam cooker is an item that every kitchen should have. This is certainly relevant to a healthy food-to-cook household. When people think of a steam cooker, you might simply think of a rice cooker, but there is much more you could do with a steam cooker! Cooking the rice will be the first process. Let's take a look at some of the different ways you may put your Steemo to work.
To Steam Vegetables: Of course, the most important.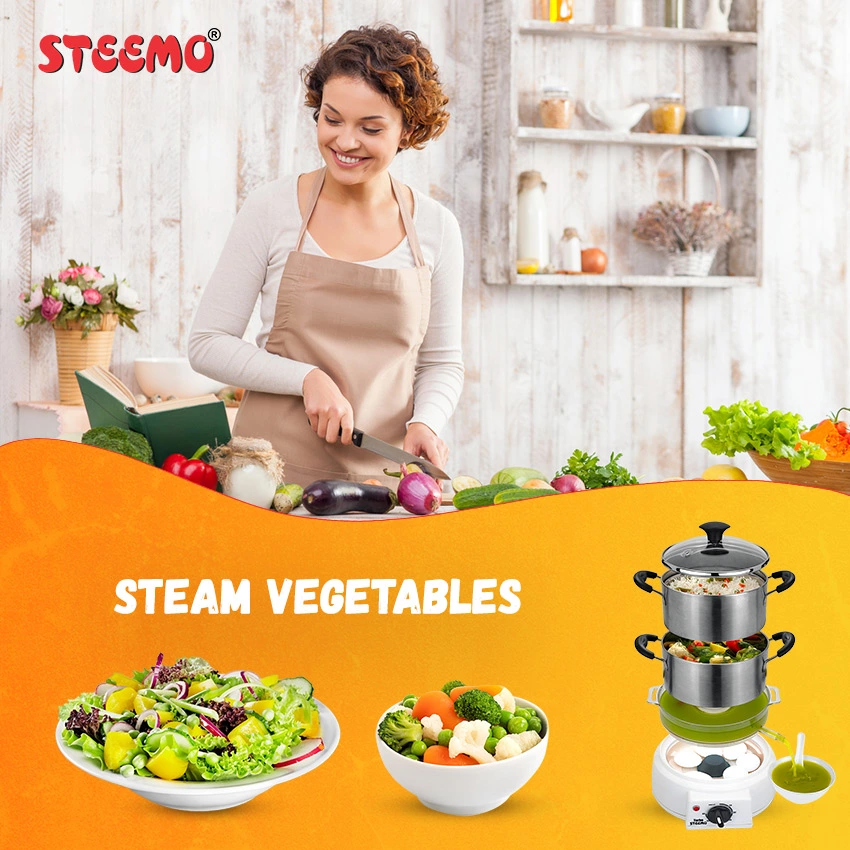 The fact that Steemo prepares fresh veggies in a steamer is a favorite feature of the steam cooker. One of the benefits of cooking vegetables is that the nutrients are preserved. Cooking in the microwave is certainly a popular approach, but recent research found that steaming vegetable recipes is far superior to boiling them on the stovetop in terms of nutrient preservation. Steaming is among the best ways to preserve vitamins B, C, and flavonoids in food. Cooking at high temperatures, such as boiling or braising, removes many of the beneficial properties of foods. This is why those who adopt a raw food diet do not cook their meals.
Carrots, broccoli, and cauliflower are likely to spring to mind when you think about steamed veggies. However, the possibilities do not end there. Try some asparagus with garlic on top. Feeling like a spud? A steam food cooker is also a potato steamer, so you can prepare white potatoes or sweet potatoes! Steamed artichokes are delicious! The possibilities are limitless!
Do you have a freezer stocked with frozen vegetables? You'll be relieved to learn that veggies can be transferred from the freezer to the steamer with ease! You just need to extend your cooking time!
Meat and Seafood
You might not have considered cooking beef in a steamer, but it works rather well. Anyone for crab legs?
An Entire Meal
You may even steam an entire dinner with this family cooker. Put in some diced potatoes, sliced bell peppers, and diced meat for a delicious one-pot supper! You may also top it with parmesan cheese if you wish.
Specialty
Presenting the World's Best Steemo Steam Cooker in Stainless Steel and Transparent Poly Carbonate Models.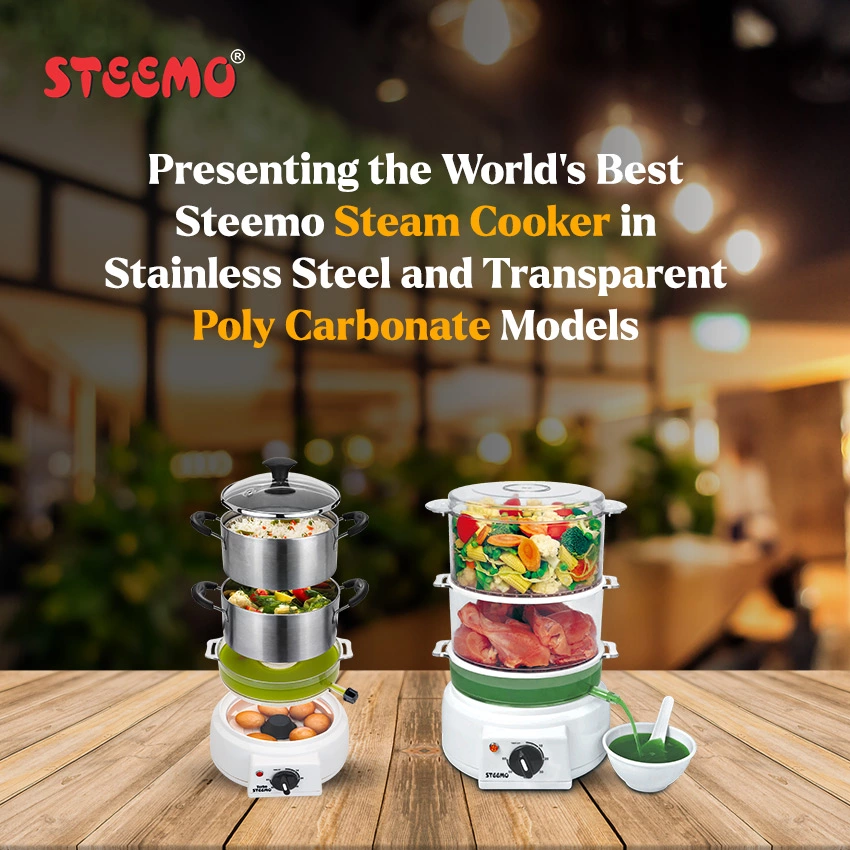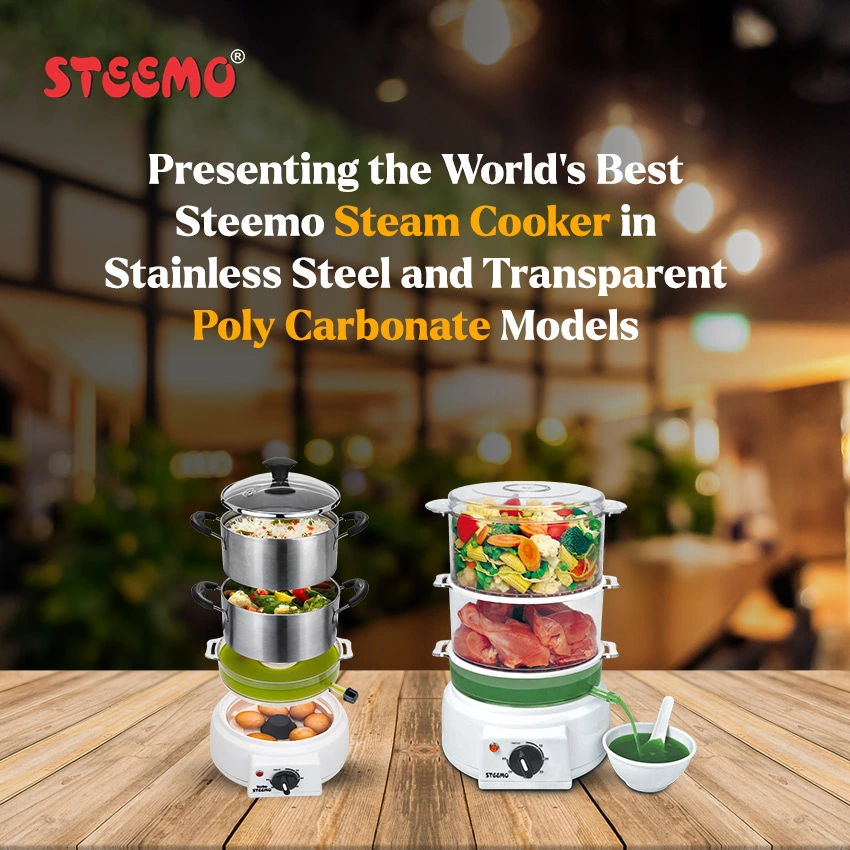 This steam cooker, made from stainless steel and polycarbonate, allows you to preserve nutrients, while steaming your favorite recipes. This cooker meal cooking without oil is beneficial for one's health. Cooking with the Steemo steamer is both efficient and safe.
Steemo Steamers Have Several Advantages
Two tiers of Stainless Steel Food Grade / Polycarbonate Food Grade Jars with a lid and an unbreakable sprout maker.
Food Grade Body, Electric Steamer for Momos, Egg boiler, rice steamer, and Idli maker.
Spl. 60-Minute Auto-Stop Timer with the option to turn it off manually.
230V Aluminum Pressure Die Cast 600W Heater with No Air Gap.
With low-temperature indicator and auto-sensing protection, this ceramic thermostat keeps your vehicle at the ideal temperature.
The following are the top five advantages of steam cooking benefits.
It preserves the primary nutrients.
The essential components in food are not lost since there is no direct contact with water. As a result, food maintains its nutrients significantly better.
Full and authentic flavour
Foods cooked by steaming is preserving their natural flavor, enabling us to "rediscover" their true essence in a wayand makes foods healthy. This approach is perfect for preparing fish and veggies in particular.
Light suppers
Because the steaming technique does not involve the use of oil, it eliminates the production of undesirable fats. The ensuing foods are light, healthier, and easier on the palette. When steam is used to cook fish and poultry, the fat melts, making the dish lower in calories and more readily digested.
No odor at all
Steam cooking reduces the unpleasant odor associated with certain meals in most cases. If you don't believe me, try it for yourself.
Quick and low-cost
Steam cooking is a rapid approach to preparing the dishes that allow us to cook many things at the same time while conserving stuff and getting fewer pots and pans to clean.