Multi Steam Cooker Polycarbonate Transparent Model​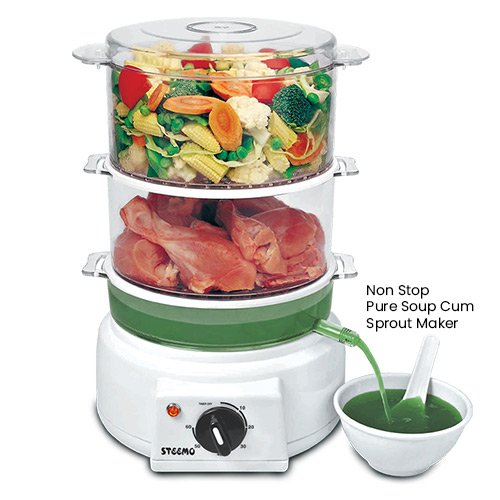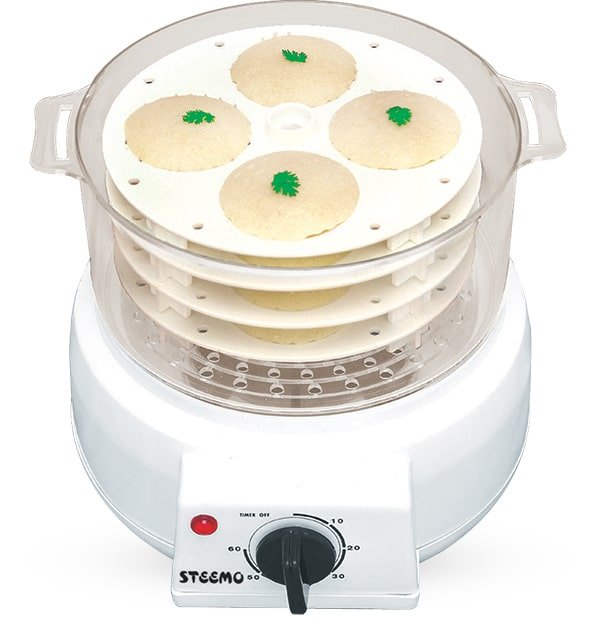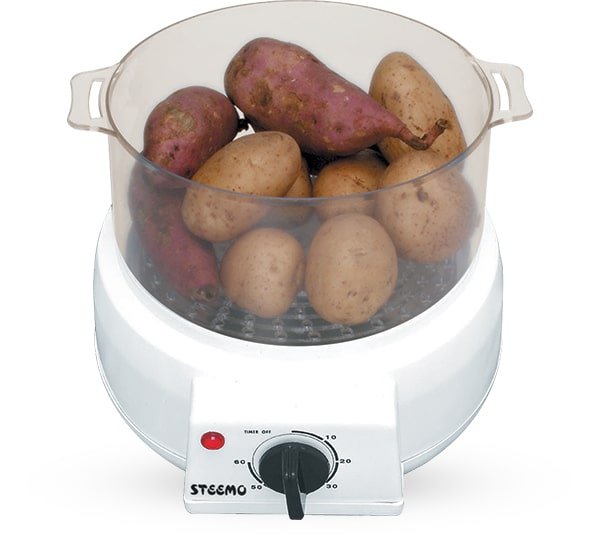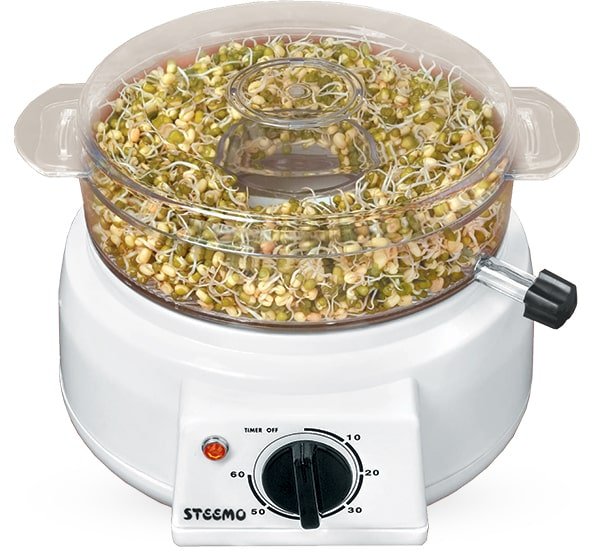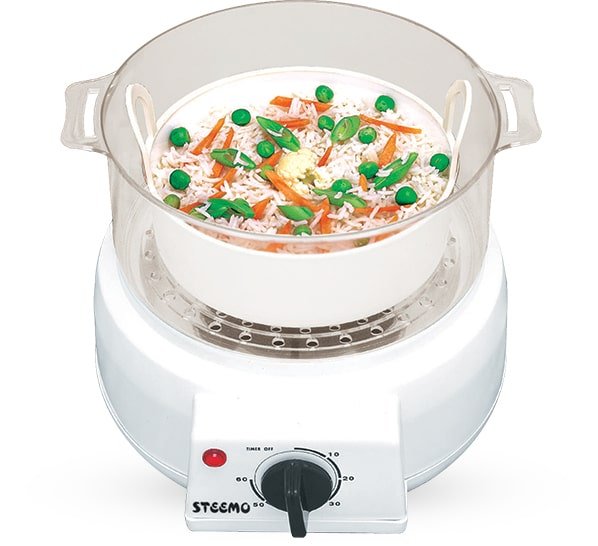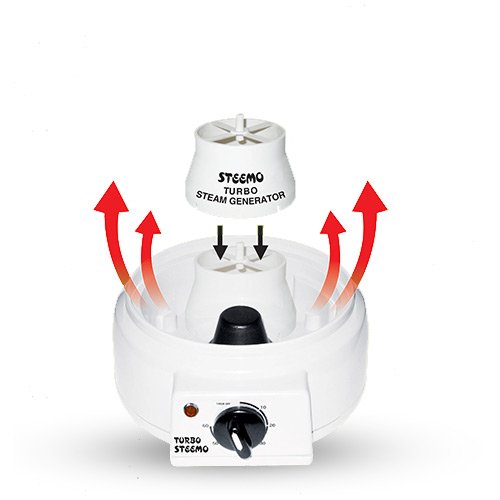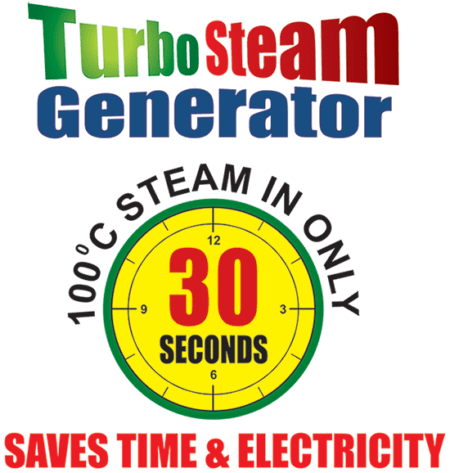 Steemo Multi Steam Cooker Transparent Polycarbonate Model Food Grade

Unbreakable Poly Carbonate Food Grade 2 Tier Jars, Lid & Soup Cum Sprout Maker.

Food Grade Body, Electric Steamer for Momos Kadai, Egg & Idli.

Spl. 60 Min. Auto Stop Timer with facility to switch off manually.

Aluminum Pressure Die Casted Without Air Gap 600W Heater 230V. 

Double Ceramic Preset Thermostat for Dry Run Protection with Indicator & with Ultimate Uniform Temp. No Time Delay Technology for accurate cut-off. 

Also available in 110V. for USA & CANADA
Dishes You Can Make with Different Attachments
Provided!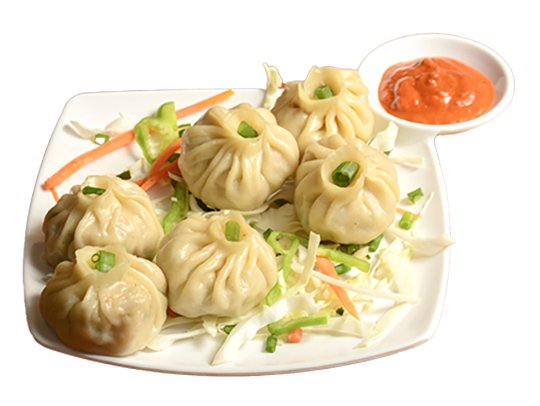 Rice Attachement SS Bowl With Handle To Lift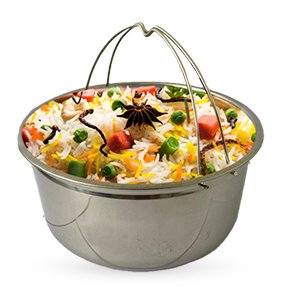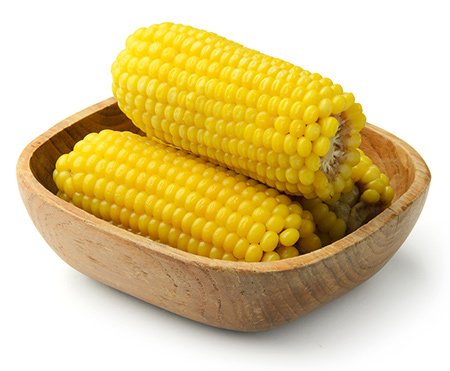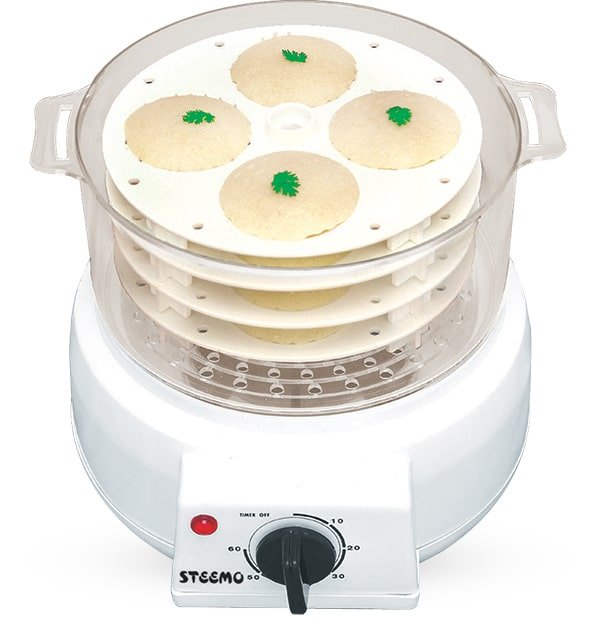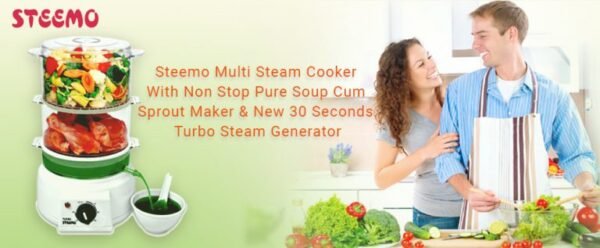 Steaming is one of the most nutritious ways of cooking food, because it allows the boiling water to vaporize into steam, and this steam heats the food without removing its nutrients. The food stays seperate from the boiling water and this results in a fine color, moist texture, flavor and taste in your food. This differs from boiling your food because the process of boiling can leach your food of nutrients."That being said, steaming is impossible if you dont have the right kitchen tools to help you to do it at Steemo Kitchen Appliances store.
You are going to be amazed at the delicious vegetables, meats, seafood, idly and soft dhokla, also sweet corns , rice, pulaos and momos that you can steam with ease in Steemo Multi Steam Cooker. Top of it the non stop soup making function , in fact to be more precise extract making function which people appreciate for abundance of vitamins in a small portion of soup , that means a complete meal in one device and you are going to be delighted by the flavour making it easier than ever to cook for the whole family.
The whole family can enjoy being able to see the colourfull food through the transparent sides in STEEMO KITCHEN APPLIANCES. It's designed with two separate steaming bowls to prepare a complete meal quickly and easily. Simply fill in the food, set the timer,and let the Steemo do the work. Another great thing about using the Steemo Food Steamer is that there is no threat of food overcooking or burning. "STEEMO" truly is built to last, utilizing wonderfully durable materials that are designed to stand the test of time. This is one of the best electric kitchen appliances for daily uses.
Steemo Multi Steam Cooker in Polycarbonate

BEST QUALITY, VALUE FOR THE MONEY FOR A DAILY USE ITEM : SEE HOW : 
This is from our own brand STEEMO. The electric cooker provides 30 SECONDS TURBO STEAM GENERATOR which SAVES TIME & ELECTRICITY. 100 DEGREE Steam Produced In JUST 30 SECONDS ( instead of other models available in the market where one has to add extra waiting time in the cooking time as mentioned in cooking procedures which is approximately 5 – 7 Minutes to let the water boil first and then cooking starts so every time waste of valuable time & electricity. ) It has ALUMINIUM PRESSURE DIE CASTED HEATER, ( the best technology) 
that means no air gap resulting into very long life.( unlike other manufacturer using old compression fit technology, where air gap can have red hot spot resulting in to very short life. ) It has got DOUBLE CERAMIC CONCEALED THERMOSTATS with COMPANY PRESET CUT OFF TEMPERATURE settings for accurate dry run protection.( Unlike most others who are using the old open type thermostat used in old models of electric press manually set in each pc , to cut down the price thus compromising in safety. ) The best FOOD GRADE material used , so again ahead.
You can add the perfect balance of taste and different textures of food by using the Steemo Multi-Steam Cooker. This is the best idea to steam some fresh foods, vegetables, etc. to enhance the taste and quality of the food. Steemo electric steam cooker has 50% more surface area when compared to ordinary steamers. It is easy to hold in hand, easy to operate. It is energy-efficient and even odorless. These all reasons make it the best food steamer for eating nutritiously.
Presenting World's Best Steemo Steam Cooker Both In Stainless Steel & Poly Carbonate Transparent Models

Our Stainless Steel Steamer can be used to steam your favorite dishes that allows retention of nutrients. Due to their health aspect Cooking without any Oil. A safe steamer fit for daily use.
What Our Customers Say For Steemo Cooker!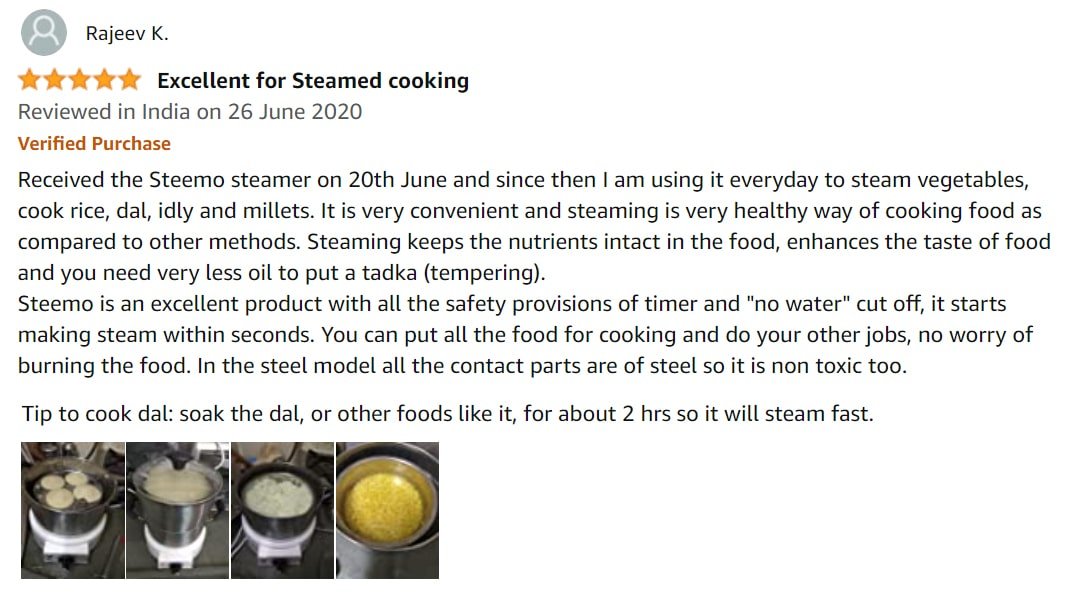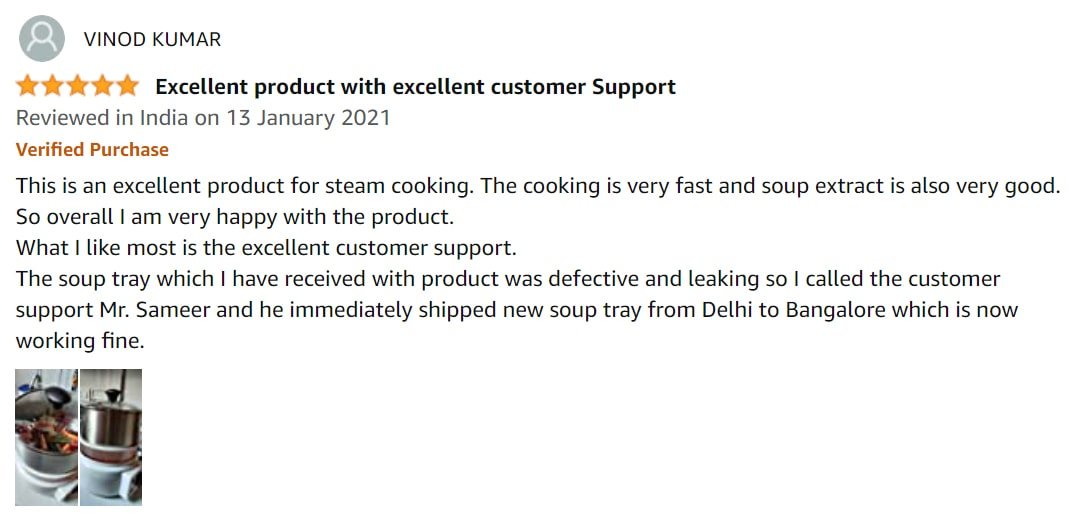 Easy To Cook Easy To Digest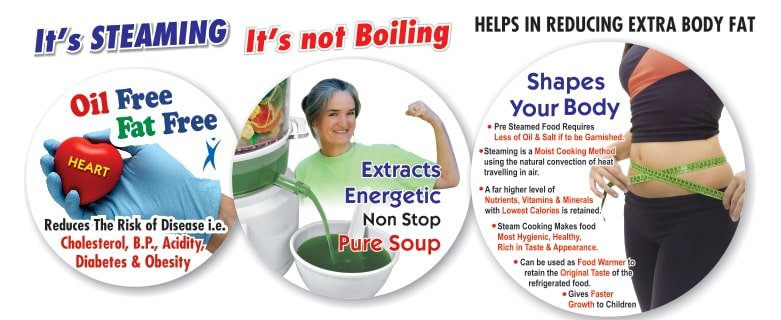 Is a steamer good for cooking?
This is a far friendlier method of cooking than most, preserving every meals' texture and flavor. Steamers can be used to prepare meat, fish, shellfish, eggs (in their shells), pasta, grains, and even puddings, in addition to vegetables. Steaming is as easy as placing a colander over a pot of hot water.
What can I cook in a steamer?
Because steaming allows boiling water to evaporate into steam, it is one of the healthiest methods of cooking. Vegetables, rice, soft dhokla, momos, eggs, idli, sweet corn, and chicken are some of the dishes you may cook with different attachments.
How much electricity does a steamer use?
600W 230V Aluminum Pressure Die Cast Heater Without Air Gap The electric cooker has a 30 SECONDS TURBO STEAM GENERATOR that SAVES TIME AND ENERGY. IN JUST 30 SECONDS, 100 DEGREE Steam is generated. It has has DOUBLE CERAMIC CONCEALED THERMOSTATS with COMPANY PRESET CUT OFF TEMPERATURE settings for appropriate dry run protection.
What are 3 advantages of steaming?
Here are 6 advantages of steaming 1. It preserves the primary nutrients. 2. Full and authentic flavour 3. Light suppers 4. No odor at all 5. Quick and low-cost