Do not place the unit directly under cabinets when operating as this

product

produces large amounts of steam. Avoid touching over the Steamer when operating.
Always use hot pads during steaming to remove the Cover or any part of the unit to avoid steam burns.
Steaming times will vary depending on desired doneness and food quantity, size and arrangement. The cooking times in the Steaming Guide are suggested times. You may want to lengthen/Shorten cooking times to suit your taste.
Altitudes affects the temperature at which water boils. Thus in higher altitudes longer cooking times may become necessary.
Some water will remain in the Water Reservoir after the Steamer has turned off; this is normal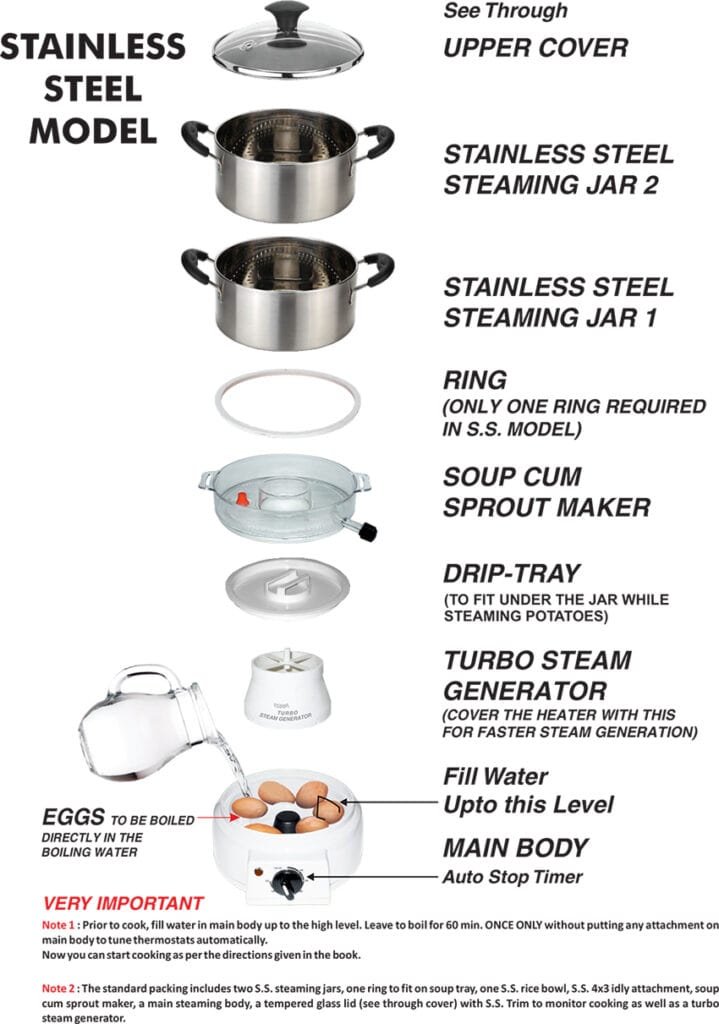 Unplug from outlet when not in use. Unplug before putting on or taking off parts, and allow to cool before cleaning.
Do not operate any appliance with a damaged cord or plug, or after the appliance malfunctions or has been damaged in any manner. Return appliance to an authorized service facility for examination, repair or adjustment.
The use of accessory attachments not recommended by this appliance manufacturer may cause hazards.
Do not touch hot surface. Use Potholders when removing cover or handling hot containers.
To protect against electrical shock, do not immerse cord, plug or base unit in water or other liquid.
Do not use outdoors.
Do not let cord hang over edge of table or counter, or touch hot surface.
Do not place on or near a hot gas or electric burner, or in a heated oven.
Extreme caution must be used when moving an appliance containing hot food, water or other hot liquids.
Do not use appliance for other than intended use.
Lift and open cover carefully to avoid scalding, and allow water to drip into steamer.
Caution : Allow Steamer to cool before washing. Turn Timer to OFF. Unplug cord from outlet.
Bowl, Cover, Soup Cum Sprout Maker and Drip Tray
1. Immerse Bowl, Cover, Soup Cum Sprout Maker and Drip Tray in hot soapy water. Rinse thoroughly. Dry all parts.
Water Reservoir (Interior of Base)
1. Pour hot soapy water into Water Reservoir. Use a non-abrasive plastic brush or mesh scouring pad to clean the interior. Do not use abrasive scouring pads or abrasive cleaners to clean any part of the Steamer.
2. Thoroughly rinse with clean, hot water to remove all traces of detergent.
Special Care for Heater Element
After a period of use, the Heater surface may be discoloured from residues. Severe staining should be treated by heating vinegar in the Water Reservoir. When cleaning, follow this procedure:
1. Do not cover base with any Steamer parts while cleaning.
2. Pour vinegar (1 quart into the Base to the "Hi" fill line).
3. Plug unit into electrical outlet and turn TIMER ON for approximately 20 minutes.
4. Do not allow solution to boil over or spill onto exterior surfaces.
5. When bell sounds and Cooking Light stops glowing, unplug cord from outlet Pour out vinegar solution and using a non-abrasive plastic brush, scrub the Heater Element.